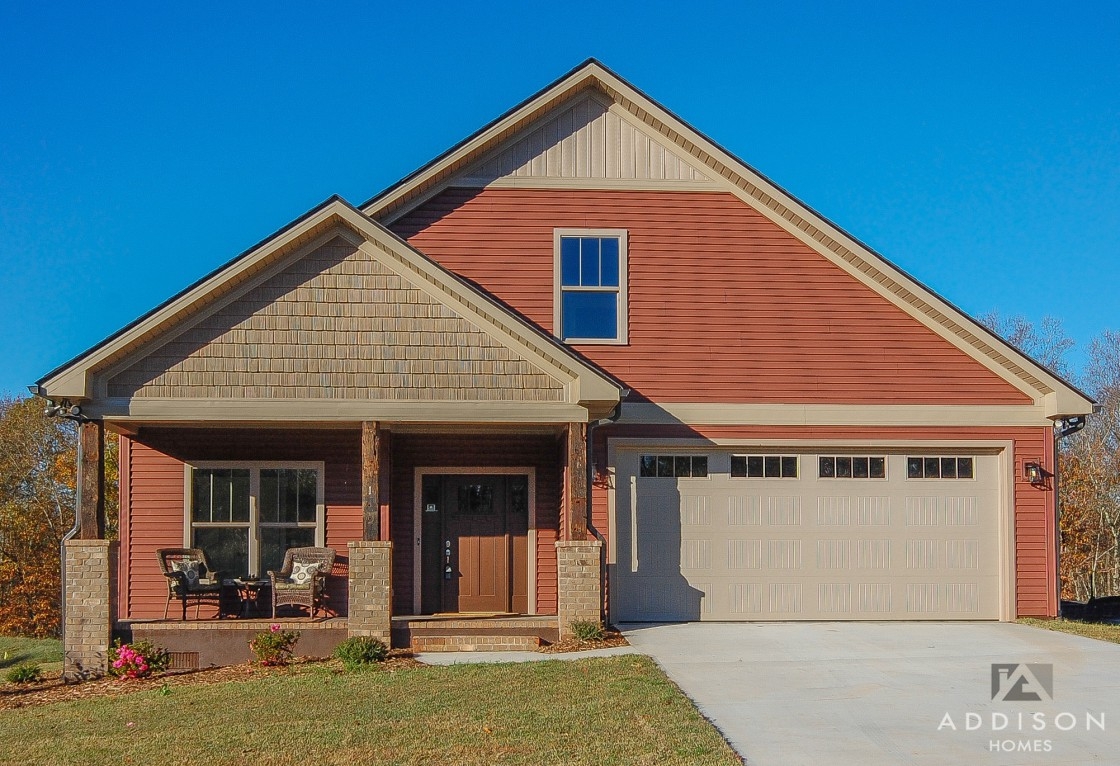 Green homes are in demand in the Greenville area, and prospective homeowners are increasingly interested in building above code with builders specializing in Zero Energy Ready or Passive House certified homes. Your local home builder, Addison Homes, has specialized in building these Healthy, HighPerformance homes in South Carolina for over 20 years. High performance, green homes are the future, and you can build one today without having to wait!
As a national award winning home builder in SC, one of our core values is to be the experts in home building and building science. We are proud to be the best home builder in Greenville, SC and the region. We love working with individuals who are excited to build an efficient, healthy home, and live a more comfortable lifestyle with a smaller environmental impact. Learn more about our impressive homes and why they promise to be the future of housing.
All homes from Addison Homes are built according to high efficiency, health, and comfort standards that we call Healthy, HighPerformance Homes. Our minimum performance threshold greatly exceeds any current building codes and we constantly strive to improve the performance of our homes. We're proud to build above code to ensure that your home will serve you well for years, and decades, into the future. 
Addison Homes incorporates durability features into every home we build which results in less maintenance and work over the long-term. Furthermore, Addison Homes goes the extra mile in our construction practices to ensure that all of our completed projects meet ENERGY STAR and EPA Indoor airPLUS standards to maximize the quality of your home's air.
When completing your home, we inspect and test your home's various performance features to ensure that the air sealing, insulation, HVAC systems, high performance windows and doors, and more are all delivering quantifiable results.
Homes built to the U.S. Department of Energy's Zero Energy Ready Home standard goes even further to ensure that the home's systems have maximum performance, and that the home is "solar ready" in the event that a homeowner wants to add a solar PV system in the future. Zero Energy Ready homes are soon to be one of the most sought-after homes on the market—right there with homes built to the Passive House standard. Find out more about Zero Energy Ready homes from Addison Homes!
What is a Zero Energy Ready Home?
The U. S. Department of Energy's Zero Energy Ready Home program is a standard your home can earn by meeting or exceeding the Zero Energy Ready program requirements for construction. Zero Energy Ready homes are built to be so efficient, that the only change needed to reduce the home's energy bill further is to add a solar PV system! 
According to the Department of Energy, Zero Energy Ready homes offer:
Impressive Efficiency
The efficiency of Zero Energy Ready homes is great news for homeowners. Zero Energy Ready structures are optimized for efficiency, meaning they use less energy to keep you comfortable. Enjoy reduced energy bills that could save you up to or even over $100,000 if you stay in your home for 30 years or more. 
A Healthy Environment
There's nothing more important than your family's well being, so why not make sure your home is a healthy environment? Most people spend 60% or more of their time at home, meaning that your indoor air quality, ventilation, and more will directly impact your family's health. Say goodbye to allergy symptoms, excessive dust, asthma, mold growth, and more that can cause you and your loved ones to feel unwell with a Zero Energy Ready home.
Luxurious Comfort
Zero Energy Ready homes are designed to keep you comfortable in more ways than just conditioning your home's air to keep you cool in the summer and warm in the winter. Zero Energy Ready homes can balance temperature, humidity levels, and more to optimize your comfort.
As an added bonus, Zero Energy Ready homes in South Carolina are insulated and sealed so well that they minimize noise, making your home the peaceful, relaxing environment you deserve. 
First-Rate Construction
It's believed that Zero Energy Ready home requirements are a glimpse of the future—satisfying building code requirements that won't be commonplace for another 25 years or more. Their construction makes them impressively durable, while also meeting the federal government's stringent requirements for performance, meaning you don't have to worry that your home, its systems, or its technology will be obsolete only a few years after its completion.
Great Value for Your Future
A Zero Energy Ready home will meet very high performance criteria, be easy to maintain, and you'll avoid the symptoms of inefficiency that traditional homes face, like window condensation, icicles hanging from your roof, drafts, poor indoor air quality, cold floors, and much more. 
Reduced Environmental Impact
Because Addison Homes specializes in energy efficient homes, including Zero Energy Ready homes for South Carolina, and green energy homes, you can rest assured that your Addison home will be gentle on the environment. Addison Homes properties use less energy to achieve the same (and often even greater) comfort levels, making less of an impact on your local community and the earth.
Don't wait to build the home you've been dreaming of. Call Addison now at 864-848-2667 or contact us online.