COLLABORATIVE AT EVERY STEP
When you build a Healthy, HighPerformance Home with Addison Homes, we want you to be comfortable and informed throughout the entire building process. Our process has been fine-tuned and streamlined to provide open communication throughout the process. You deserve to know the ins and outs of each detail included in your new home, and at Addison we want you to build with confidence.
Addison Homes follows our exclusive Healthy HighPerformance quality process with each home we build in Greenville, Seneca, and across Upstate SC to ensure every home consistently performs at its best for years to come. This is what you can expect from our team when you build a home with trusted Greenville builders, Addison Homes. Here is the step by step process of building a comfortable and efficient home with our team.
STEP 1: WELCOME!
The first step on the path to a Healthy, HighPerformance Addison home is to select a floorplan (you can even visit one of our model homes here in SC to get a better idea). If you don't find a match with one of our floorplans, we can help you develop the home plan of your dreams.  Once you have a preliminary home plan, we will discuss the preliminary budget for your project. After you determine that your dream plan meets your budget, we proceed to our construction documents and engineering phase, where we put all the final touches on getting your home plan ready to build. This phase also triggers the selections meetings where you will choose the final features and finishes to include in your new Healthy, HighPerformance home. 
STEP 2: SIGNED CONSTRUCTION AGREEMENT
Once we've signed the construction agreement, we'll reserve the construction start date. If you'll be financing your project with a lender,  we will submit the construction documents and final specifications to your lender for their final review and processing.. Before we break ground, we will meet for a  preconstruction review to ensure everything is documented correctly so we can hit the ground running.
CONSTRUCTION BEGINS
This is where things really get moving. Our crew of knowledgeable construction professionals will follow our HighPerformance Quality process at each step of construction, ensuring it meets the Addison  HighPerformance standards as well as some of the most demanding new home performance and health standards in the world, including the US Department of Energy's Zero Energy Ready Home and the EPA Indoor AirPlus certifications.  As construction begins, it follows a general sequence: 
Foundation 

Framing 

Roofing 

Windows and doors 

Installation of rough heating/electrical/plumbing, insulation

Siding and drywall 

Trim 

Doors and cabinets

Paint 

Door and bathroom hardware 

Flooring, driveway and exterior concrete

Landscaping
Near completion, we will inspect and test the home to confirm that it meets our final HighPerformance standards, ensuring the energy efficiency, water efficiency, comfort, and renewable energy function (or readiness) of your new home. As the excitement builds for move-in day, we will review the home with you in detail, to make sure that everything has been completed as expected.  If any last items need to be addressed, we will take care of these before move-in so that you can enjoy your new Healthy, HighPerformance home without interruption.  
STEP 3: MOVE-IN
Time to hand over the keys! We will visit again in 30 days to review any questions you may have after enjoying your new home for the first month.  We will also perform several follow up quality checks to ensure that everything is working as designed.  We repeat this process after your first year of enjoyment and the Addison team remains available throughout the life of your home to answer any questions and assist you with regular maintenance advice.  In fact, if you'd like us to handle your regular maintenance, we have a choice for that too!
THE HEALTHY HIGH PERFORMANCE BUILDING PROCESS
We created the Healthy, HighPerformance building roadmap to provide you with an outline of each step in the journey to your new home with Addison From the initial consultation and choosing your floor plan, to your move-in and our ongoing service and support, you will never be left in the dark. We strive to proactively guide you through the building process, providing expert recommendations at each step, so rest easy knowing you are working with a team of experienced professionals who strive to build you a home providing the greatest value, safety, and performance for you and your family.
You can review our process here, or if you'd like to print and share the Healthy HighPerformance Building Process with your family, you can download and print a PDF below.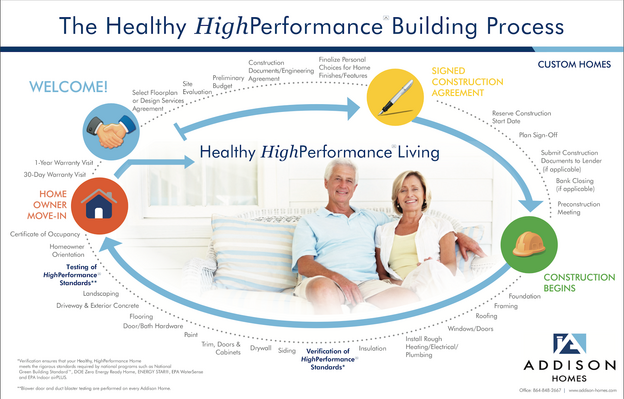 DOWNLOAD THE HEALTHY HIGH PERFORMANCE PROCESS PDF
BUILD WITH CONFIDENCE — BUILD WITH ADDISON
As the premier net zero home builder in SC, the team at Addison Homes wants you to have  a home that lives as good as it looks.  A home that not only looks beautiful inside and out, but provides comfort and security for you and your family for a lifetime. You eat, sleep, and breathe in your home — why not make it as healthy as possible? Combining form and function is our goal, so see what the Healthy HighPerformance difference can mean for you and your family.