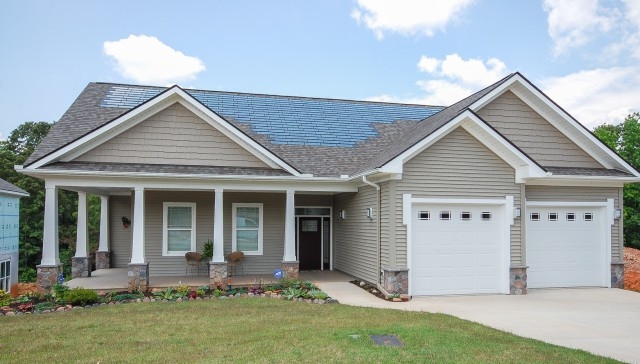 DOE's Housing Innovation Awards program recognizes nation's top builders on the path to Zero Energy Ready Homes

Two Addison Homes projects have earned 2016 Housing Innovation Awards from the U.S. Department of Energy. Addison Homes won in both the Innovation in Custom Homes (For Buyer) and Innovation in Custom Homes (Spec) categories.
The Greenville SC builder is among 34 of the nation's most industry-forward builders who were honored for innovation in five categories: Affordable Homes, Multifamily Homes, Production Homes, Custom Homes (For Buyer) and Custom Homes (Spec). Grand Winners in each category will be announced at the 2016 Housing Innovation Awards Ceremony, on Wednesday, Sept. 27, during the EEBA Excellence in Building Conference in Dallas, Texas.

"Housing Innovation Award winners such as Addison Homes are leading a major housing industry transformation to Zero Energy Ready Homes," said Sam Rashkin, Chief Architect at the DOE's Building Technologies Office. "This level of performance is the home of the future because it improves the way Americans live by substantially reducing or eliminating utility bills, ensuring engineered comfort way beyond traditional homes, protecting health with a comprehensive package of indoor air quality measures, and helping maximize the largest investment of a lifetime."
Both of Addison's HIA-winning projects are located in Trailside, Greenville's first all-solar community where every new home qualifies for the Zero Energy Ready Home (ZERH) label. "This is wonderful recognition of our commitment to build well beyond the minimum code," said Addison Homes President Todd Usher, noting that ZERH-labeled homes live better, work better and last better. "The real winners, of course, are the Trailside residents whose homes provide healthy indoor air, increased comfort and greatly reduced energy costs."
Visit the U.S Department of Energy's website to learn more about the Housing Innovation Awards.  Winning projects from previous years can be viewed on the DOE Tour of Zero.
WINNERS FOR INNOVATION IN CUSTOM HOMES (For Buyer): Addison Homes, Greer, SC; Amaris Homes, Maplewood, MN; Charis Homes, North Canton, OH; DP Construction, Prattville, AL; E2 Homes LLC, Winter Park, FL; Greenhill Contracting, Esopus, NY; High Performance Homes, Gettysburg, PA; Imery & Co, LLC, Athens, GA; Insulsteel Building Enclosures, Charleston, SC; Knaggs Construction Inc., Kearney, NE; Mantell-Hecathorn Builders, Durango, CO; TC Legend Homes, Bellingham, WA; Paul Torcellini, East Hartford, CT; Zero Energy Plans, Coupeville, WA; Pepper Tree Homes, Waitsfield, VT
WINNERS FOR INNOVATION IN CUSTOM HOMES (Spec): Addison Homes, Greer, SC; BrightLeaf Homes, Brookfield, IL; [bundle] design studio, Bellingham, WA; DP Construction, Prattville, AL; Dwell Development, Seattle, WA; Element Design | Build, Henderson, NV; Garbett Homes, Salt Lake City, UT; Heath E Community Enterprises of Virginia, Williamsburg, VA; Lifestyle Homes, Inc., West Melbourne, FL
WINNERS FOR INNOVATION IN AFFORDABLE HOMES: Carl Franklin Homes, Lewisville, TX; Clifton View Homes (CVH) Inc., Coupeville, WA; Habitat for Humanity of Catawba Valley, Hickory, NC; Habitat for Humanity, Grand Traverse Region, Traverse City, MI; Kalamazoo Valley Habitat for Humanity, Kalamazoo, MI; Habitat for Humanity South Sarasota County, Venice, FL; Revival Homes, New Hartford, CT; Sunroc Builders, Lakeland, FL; United Way of Long Island, Deer Park, NY
WINNERS FOR INNOVATION IN MULTIFAMILY HOMES: AquaZephyr, LLC, Ithaca, NY; Thrive Home Builders, Denver, CO; Revive Properties and Philgreen Construction, Fort Collins, CO
WINNERS FOR INNOVATION IN PRODUCTION HOMES: Greenhill Contracting, Esopus, NY; Mandalay Homes, Phoenix, AZ; Thrive Home Builders, Denver, CO; Revive Properties and Philgreen Construction, Fort Collins, CO