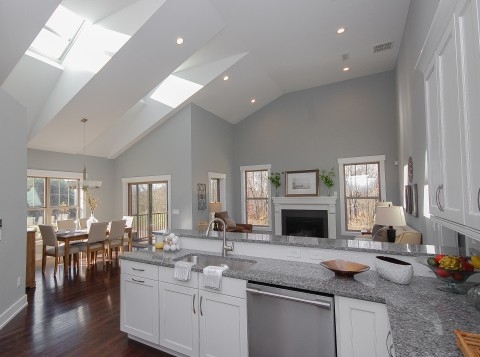 Addison Homes won the Southern Home & Garden Bridge Award for Green Building for the third consecutive year.
Produced by the Home Builders Association of Greenville and the Sales & Marketing Council of the Upstate, the Bridge Awards program recognizes the best and brightest in the residential construction industry. Local builders and industry associates were honored in categories such as New Homes, Remodels, Special Features, Sales & Marketing, and Builder of the Year during a gala presentation sponsored by GBS Building Supply.
An Upstate SC builder specializing in sustainable construction, Addison Homes received the 2015 Bridge Award for Green Building for its model home in the Trailside community. This green project – notable as the first Zero Energy Home in Greenville – integrates next-generation high-performance with a savvy-yet-simple aesthetic that appeals to today's homeowner.
"We envision this as so much more than the typical model home in a new community – indeed, it's designed to showcase Zero Energy as an attractive, attainable option for mainstream consumers everywhere," says Addison Homes President Todd Usher. "While there's always been a niche for extreme efficiency, our goal is to expand that market with appealing examples of building science innovations."
Click HERE to view a photo album featuring this award-winning green home.
The Southern Home & Garden Bridge Award for Green Building was sponsored by Clark's Termite & Pest Control. Visit the Greenville HBA website for a complete list of winners.
Project Statement: A Zero on the HERS Index, A Perfect Ten with Homeowners
Many consumers wonder if a conventionally-styled Zero Energy Home can really produce as much electricity as it consumes. Addison Homes built this project to prove it's not only possible, it's practical. How? By incorporating a variety of high-performance products and processes to maximize efficiency – to some 70% beyond code – then adding a photovoltaic system capable of generating enough renewable energy to meet the home's remaining electrical needs.
The result is a number of "firsts:" it's the first mainstream Zero Energy Home in Greenville, and it's located in the first community in the United States where every house will meet the rigorous energy savings, comfort, health and durability requirements of the Department of Energy's Zero Energy Ready Home program. It's also the first home in the Southeast to achieve Active House certification – a European designation of optimal daylighting, indoor air quality and resource efficiency.  Other labels include Energy Star®, Indoor airPLUS® and WaterSense®.
This home's exterior is simple and quaint, clad in GreenSENSE™-labeled siding that's durable and virtually maintenance-free. Interior design is a study in neutrals — created with low-VOC paint on all walls and trim, GREENGUARD-certified hardwood flooring to ensure low VOC polyurethane, and carpeting created from recyclable nylon. Elements of universal design are built in throughout, including wide doorways, zero step garage entryway, and focused accessibility in the owner's bath.
Addison Homes included the finishes most requested by today's homebuyers: granite counters, classic craftsman crown molding, stylish lighting (with LEDs, of course) and energy-efficient stainless steel appliances.
But underneath this home's charming élan, it's all about high performance.
Construction efficiency was a priority. Advanced framing techniques were incorporated to conserve lumber and maximize insulation; using engineered lumber and trusses reduced jobsite debris. Recycled-content materials were utilized where possible.
A variety of next-generation insulation and sealants wrapped the home in a blanket of efficiency. Addison insulated walls and ceilings beyond code and spray foamed the roof to create conditioned space for the ultra-efficient HVAC system.  All ductwork was installed and sealed per Energy Star and Zero Energy Ready Home requirements to provide a huge performance advantage.
Low-E windows utilizing double pane glass with two layers of low-e coating further augment efficiency. All plumbing fixtures meet EPA WaterSense® requirements for low flow/water conservation and an Energy Star®-qualified tankless water heater features a built-in re-circulation system.
To ensure indoor air quality, the construction process included a complete air sealing package and airtight drywall installation techniques. There's fresh air intake on return with an air cycler control; all fresh air passes through a central MERV 16 carbon media filter.
To promote the healthiest indoor environment, Addison utilized low-VOC paints, finishes and construction products.   Pest control was non-toxic as well.  The home's open ambiance and healthy atmosphere is enhanced via ample daylighting and natural ventilation through an abundance of skylights, sun tunnels and roof windows.
Addison Homes' goal for this project is a home that scores Zero on the HERS Index but rates a Perfect Ten with today's homeowners.